After Ricoh/Pentax announced a new monochrome-only DSLR camera a few weeks ago, and after the first reports, photos, and tests about it, I've been thinking about a camera which only has a black & white sensor – the only other readily available model being a Leica for almost 10,000$/€ without a lens.
That Pentax camera with a sensor of APS-C size seems to be very popular at least in Japan where it sold out immediately, twice in a row. Meaning that Ricoh/Pentax just can't seem to make enough of them, and that people seem to like black & white – who would have thought?
Anyway – when I was shopping lately, I went into a local drugstore to look for film – and all they had left was a single brand and version of a black & white film. Looking online later at home, I saw the same. The only other film in their online store, a color negative one was marked as "not available". So out of nostalgia, I bought one:
Of course, looking at price comparison sites, I've found some more, but way less than in the past, and at the same time more expensive than ever. Well, that answers one question as it seems: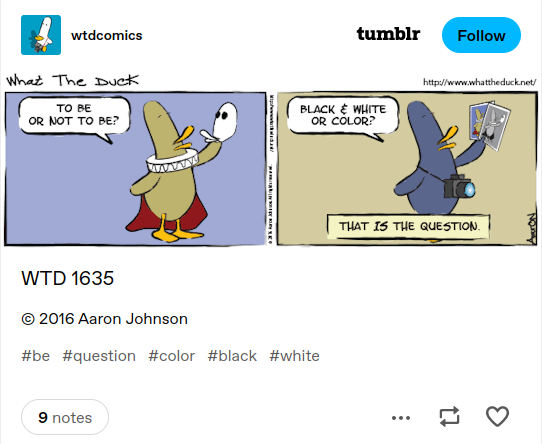 And maybe that also saves me from this one:
That's a joke of course. Like Michael Johnston wrote lately, I also won't be "shooting" film anymore, so this roll is for "special occasions", and I'll treat it like the last one. The photo of the film in front of my camera above has been treated with Nik's Silver Efex Pro 2, using an Agfa APX 100 film simulation just as a demo for what you can do with a normal mirrorless camera.
Would I buy that Pentax? No. Would I buy an Olympus Pen-F with a black & white only sensor? Probably, if it were under 1k€. Otherwise, I'm perfectly happy with what I have.
Like always, thanks for reading, and for viewing.
Edit, from two days later (Saturday, 27th of March 2023):
Found another one in a second drugstore chain, same brand but different ISO/ASA of 400 instead of 100. I've looked on their webpage but haven't found it there, but in the store it was the only one available. So here's a pic of both of them together:
Both films are made in UK, so I wonder who makes them – probably Ilford?
Oh, and the photo this time is straight out of camera, cropped in-camera to a 3:2 format, and with the contrast set to +2 (on a scale from -2…0…+2). No filters set, uploaded to Flickr as is.
Like always, thanks for reading/viewing.