I've had problems with swollen batteries on both the old Google Nexus 5 and also the Pixel 4a devices. Nice as they were, this was probably my own fault: like the company's laptop/notebook, I had them "plugged in" (into their power adapter) pretty much all of the time, and I've only recently learnt and read that doing so is putting lots of stress on those rechargeable batteries.
So with the remaining devices (one Pixel 3a which I re-inherited from my late brother, after originally having bought it for Mitchie who gave it to Zuleikha who gave it to Willi – and my Pixel 6a which was a gift from my family and the first ever new phone I've got), I'm a bit more careful. What I've read is that you shouldn't let the batteries run out completely and you also shouldn't always charge them until they're really full – an 80/20 rule would be much better for longevity. So I've decided to use that 80/20 rule whenever possible – meaning charge them when the batteries reach 20% (turning on their battery saver at that percentage as well, in case I don't see it), and charge them up to 80% mostly, and only to the max if I know I'll be out of the house for a while and want them to last as long as possible.
They last long anyway, at least with my way of using them. Here's a screenshot from the 3a where you can see the reloading to about 80% spike after a few days:
That one lasts long because first, I don't use it that much (it doesn't even have a SIM card, so I use it via WLAN only), and second I had its original Google Android operating system replaced with GrapheneOS which doesn't "call home" as much as the original did. In fact, no Google services on this one at all…
… but also the Pixel 6a is pretty good once I turned off everything I don't really need, like location history or Google's "Fit" and other stuff. This one *does* have a SIM card, but I also don't use it really often, so here's a screenshot showing that I charged it to 100% last Friday evening, and the screenshot was taken this morning, at 25% battery life left. As you can see, I've used it for reading a bit, with a free PDF viewer:
So how do I keep track of charging them up to 80% only, instead of full? Easy: I'll get a notification from my computer, like this:

And that one comes from a program / an extension on my desktop which is called GSConnect. You can set it like this, like here for the Pixel 3a: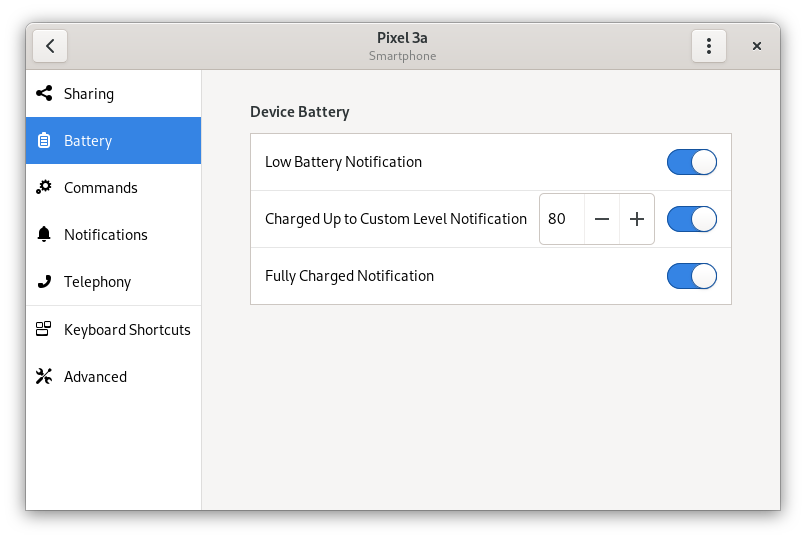 On the phones, the application you have to install is KDE Connect, and you can get that from the F-Droid store in case you don't want to be logged in into Google just to use their own "Play Store".
The application can do lots more than just notify you about the battery status, but that is what I usually do with it – looks like this on the Gnome desktop:
According to its Wikipedia page, KDE Connect is also available for Microsoft Windows and for Apple's MacOS, but I haven't tried these. Go on and see for yourself if you're using these. It's built right into KDE (their "Plasma" desktop) in case you want to try that as well.
Hoping that this is useful for anyone. Like always, thanks for reading.