In regards of space I'm a bit restricted, and so my thoughts about computers and cases to put them into lead me to Mini ITX, and to a case which was introduced last year and which immediately became one of the favourites in that size and price class, the CoolerMaster NR200P. Here's Leo from Kitguru reviewing it:
You can also read their/his written review here in case you want to know more.
As you could see in the review video, my current drives – one 2,5″ SSD and one 3,5″ hard disk with 4TB – the same Leo was showing – both fit nicely. Plus modern mainboards all have space for one or two M.2 SSD drives which are even faster anyway, and the case could even take two more 2,5″ SATA SSDs behind the front plate – that's 6 drives overall, surely more than enough storage options.
Of course one should also try to save some space with choosing components wisely, so as a power supply I'd take Corsair's smaller SFX ones, the 'Platinum' specced ones have a set of nicer braided cables compared to the 'Gold' rated ones. Without ever planning to add a graphics card, a 450W model would be more than enough, if you want to keep the possibility to add a medium- or high powered graphics card later on, there are also models with 600 or with 750W available. Remember, the high powered system Leo was building there drew some 500 Watts from the wall socket when stressing it out, both CPU and GPU alike. For me, that would rarely to almost never happen… so what about cooling?
I'd go with air cooling with a Noctua L12S low profile top blower cooler. I'd never overclock a system, so that should be just fine for a CPU with a TDP of around 65W like the AMD Ryzen 5 5600G (6 Core / 12 Thread), the Ryzen 7 5700G (8 Core / 16 Thread) or a comparable Intel Core i5-10400 (not the "K" versions which take lots more power). Learn more about such coolers from Machines & More:
In case you also take low profile (or JEDEC-compatible) RAM which isn't higher than 31,25mm, you could even let the cooler's fan *under* the heat sink if you so desire, although these tests showed that it's performing a bit better if you have the fan on top of the heatsink.
So for RAM a kit of 2x8GB or 2x16GB DDR4-3200 from Corsair ("Vengeance") would be cool and wouldn't restrict your mounting options.
For the main board, I'd go with Asus, but Gigabyte is also a good option and maybe a bit cheaper. Even MSI has a nice board, for AMD CPUs I'd take one with a B550 chipset, for 11th gen Intel chips a Z590 one.
All of the mentioned CPUs have graphics built right in, so you won't have to overpay for graphics cards (only gamers would want these anyway, you can cut movies or "develop" photos without a dedicated graphics card just fine).
That would be cool machines, and maybe I'll build one of these for a relative soon.
Oh, and a propos benchmarking: my own current system which is quite old already, and still has a 4th gen Intel Core i5 was behaving quite nicely when I stressed out its CPU with the Blender render "classroom" test:
As you can see, CPU average temperature was 41°C, max was 52°C, and the system was drawing about 72 Watts from the wall socket while doing this. Of course this took quite a while: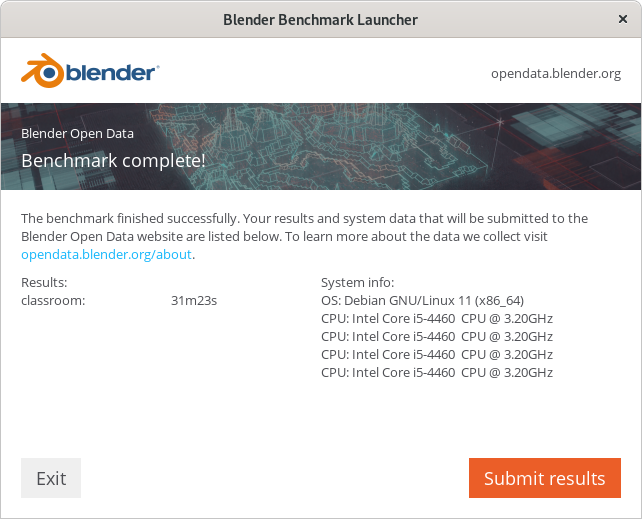 Over 31 minutes is slow, a more modern machine and chips like the ones mentioned above should do the same in about 8-10 minutes. And while they might draw a bit more power, they'd still do it in about a third to a quarter of the time, which makes them much more efficient in case you need that power…
As always, thanks for reading.