Beginning of next year, I'll officially retire. Which means that from then on, I'll have much less income compared to what I've had during the last years, or even now. And when a friend from Paris recently mentioned that he was thinking about building a new computer for himself "which will have to last a few years" as he said, I started thinking about my own one.
I have a self-built computer (all of ours are, except the notebooks) based upon a "Haswell" processor, which was Intel's internal code name for their 4th generation Core series. To be more precise, it's the Intel Core i5-4460. That CPU together with 16GB of RAM sits on an Asus Z97M-Plus Micro-ATX mainboard, is cooled by some top-blowing Scythe Shuriken, and inside a very nice (with a thick aluminium! front plate) Antec 2480 case.
I'm running mostly Debian Linux, and for looking at newer stuff, I also often dual-boot into Arch Linux. On Debian I have set the CPU 'governor' profile to 'performance', which means that it's always running at 3.2GHz (on Arch it's mostly at 800MHz) – that's because Ardour, my main program or 'application' as they are called nowadays complains if you don't use a real-time kernel, and the CPU at 'performance' mode.
And while running Ardour together with some Sonarworks headphone correction software does make use of that older processor a bit, I'm far from really demanding anything of it – the CPU Usage in these cases stays around 25-30% as long as I don't use lots of plugins in each channel/track of the DAW (digital audio workstation). While reading internet pages in a browser, or while writing, the CPU is kind of bored as you could say, and I'm also far from using much of the RAM as you can see on my partly screenshot from conky: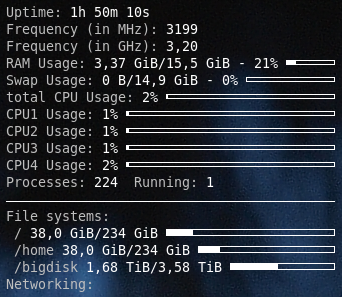 So I'm kind of very happy with that machine, and I doubt if I need more than that. Okay, when making videos I sometimes wait for it a bit, but as you can see, in the vast majority of times, my computer waits for me rather than vice versa.
So why am I thinking about a new one? Is that because of GAS, or FOMO? Funny side note about that term of 'GAS': it doesn't have an English Wikipedia page, only German, Spanish, French, and Portuguese ones – although the term is cited to come from the late Walter Becker of Steely Dan fame…
No, it's the thought my Parisian friend had, about "having to last for a while". As you can see from the link to my CPU, it was discontinued in 2017, and also the mainboard, RAM, and everything else including that wonderful case aren't available any more (which is sad, because some things like nice *and* small computer cases are vanishing at frightening and accelerating paces, with a downward spiral of 'cheaper' ruining most of the quality we were used to in my opinion).
So what would I do if my computer fails, and I won't have much of an income any more? Well, yes, using an older notebook with a dual core Celeron and only 2GB of RAM, or even my mobile phone. Both of these would be more than good enough to read internet news (who does still know that term?), or for 'surfing on the internet' (and who does still know that book?) – but to work a bit on Wikiloops, or to make music with Ardour? I could forget about this…
And that is why I'm thinking about building a new computer for myself, although I have a wonderful and perfectly fine working one right now. So it's hopefully not an 'embarrassment of riches' in this case, and also no gear acquisition syndrome.
So what *am I* thinking about?
Well during the beginning of this year, it was my wife who had the oldest machine in the house, and a close relative had no working computer at all. So we gave her old Core Duo away for free, and I built her what at that point in time I would also have built for myself – a machine based upon an AMD Ryzen 7 5700G processor on an Asus (full ATX-sized) mainboard, with 32GB or RAM (both double the size and speed of mine), and a 2TB M.2 SSD. So, this one: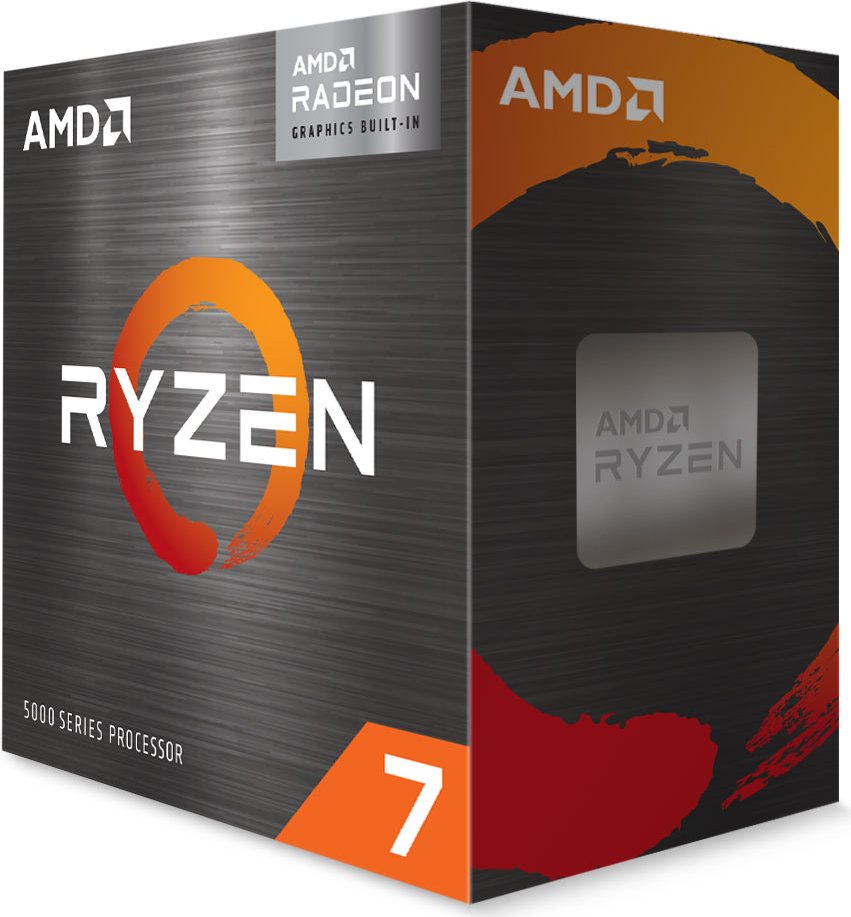 This one is already kind of 'old' as well now, since later this month, AMD will start selling the next generation which they call the Ryzen 7000 series. These will *all* have graphics cores, so the 8-core equivalent processor to the one above will be the Ryzen 7 7700X I guess. And my friend from Paris even talked about getting a Ryzen 9 one (so with 12 or 16 cores). Perfectly fine, except that they will cost quite a bit more then the outgoing 5000 series, and also demand newer and also more costly mainboards (with at least a B650 chipset, these will be introduced on October 4th), and also with DDR5 RAM instead of DDR4 (or my DDR3).
So which one to get, that is the said question? Keep it cheap and cheerful with "Zen3", or wait and pay quite a bit more for the newer "Zen4" one? Both options would be better than to go with Intel and their ill-named "Intel 7" architecture which in fact is still based on a 10nm process (and I hate liars and marketing people who just "pretty up" (non-)facts). Zen3 is 7 *real* nanometers, Zen4 will be 5nm, an architecture as small as the one on iPhones. Take that, Intel – and of course this will again help in saving energy as well (while our machines are waiting for us).
Keep that last bracket in mind – most of the time, the *vast* majority of time, computers are waiting for us, and not vice versa. Which means that a *faster* computer will be waiting *faster* for you and me, idling at higher clock speeds, consuming more power – for nothing. So yes, energy efficiency is a big point for me (us) – we never bought or built machines with dedicated graphics cards for instance, since first we're no gamers (and for any 3D games Zuleikha also has a Nintendo Switch), secondly because these graphics cards would also be idling most of the time, and *when* being used, these consume up to 300 Watts – for comparison, my machine while waiting for me in the picture above takes slightly over 30 Watts (the processor has a TDP of 88W), and Mitchie's machine is around 20 Watts doing the same (her processor has a TDP of 65W). That's still more than a good notebook would take, but well…
So while Intel's processors caught up a bit, mostly due to improvements in the Linux kernel as a recent article on Phoronix shows, they are still drawing up to 240 Watts out of your wall socket even without any graphics cards – so they're out of the question. The Zen4 processors start at 105W TDP, mostly – I guess – because they want to catch up with Intel's brute power single core results, don't know if I'd really need that. But of course, 5nm against 7nm for Zen3, so in theory while doing the same, the newer ones should take less power. Guess I'll have to wait for the first benchmarks and comparison tests, so until October. Earlier ones will be made on X670 mainboards which are simply overkill for most of us (except maybe some gamers, or whom are they going to impress with that kind of overbuilding things?).
Time to steer back a bit in my humble opinion, and to think about what we really need. Normal 'web surfing' is best done on mobile phones since quite a while, notebooks are way more efficient than desktop computers, and the latter ones could be made to other standards than pure and max power performance I think…
Plus, the maximum efficiency is of course only achieved when using your computer(s) as long as you can. Which means that for me – inflation also considered – I should perhaps lay some money on the side for later; not for now. And if 'later' means that I wouldn't be able to buy a Zen3 (or Ryzen 5000) machine anymore – well that's the way things are going; can't change much of that. Plus, who knows, maybe there still *are* improvements which are good for us all?
Like always, thanks for reading.
P.S.: I just read on ZDNet (one of the better online magazines) about Linus Torvalds and his M2 MacBook Air and self-built home computers… very interesting, very much my thoughts – except that I definitely wouldn't need an AMD Threadripper 😉
P.P.S.: above thought about laying some money aside and to wait and see how long mine will keep working is exactly what Mitchie proposed – sounds clever to me 😉