I'm no "distro hopper", and pretty much set with what I have on my machine – and if you are reading this since a bit, you'll probably know that I'm normally using Debian Linux, and for some newer things, Arch.
So when my friend Bill from Florida (a really good photographer who also has cats and dogs and is a computer nerd) wrote about Fedora and some problems he's having with it, and when shortly after that seeing that I just got new Gnome "Boxes" on Arch, I decided to try and see…
For those of you who might not know Linux: on that OS you normally have both qemu and also kvm, which means that virtualisation is built into the kernel and your operating system already – and with a smart tool like the mentioned "Gnome Boxes", the installation of other systems is only a few mouse clicks away, and really child's play, even if you'd want Windows.
So I went and downloaded Fedora Workstation, and because I was curious I also downloaded openSUSE Tumbleweed, and installed them both in Boxes. First, Fedora:
and a few minutes later, Suse:
Because my machine has "only" 16GB of main memory, and my host operating system has a system drive of ~240GB, I was a bit conservative and chose the default settings of 2GB of RAM and 20GB of storage for both. Fedora comes with Gnome42 by default which is fine, and openSUSE asks you, and from (old) experience I assumed that the first option (namely, KDE Plasma) was/is still their default one, so I chose that.
And voilá, both running in parallel on my Arch system as their host: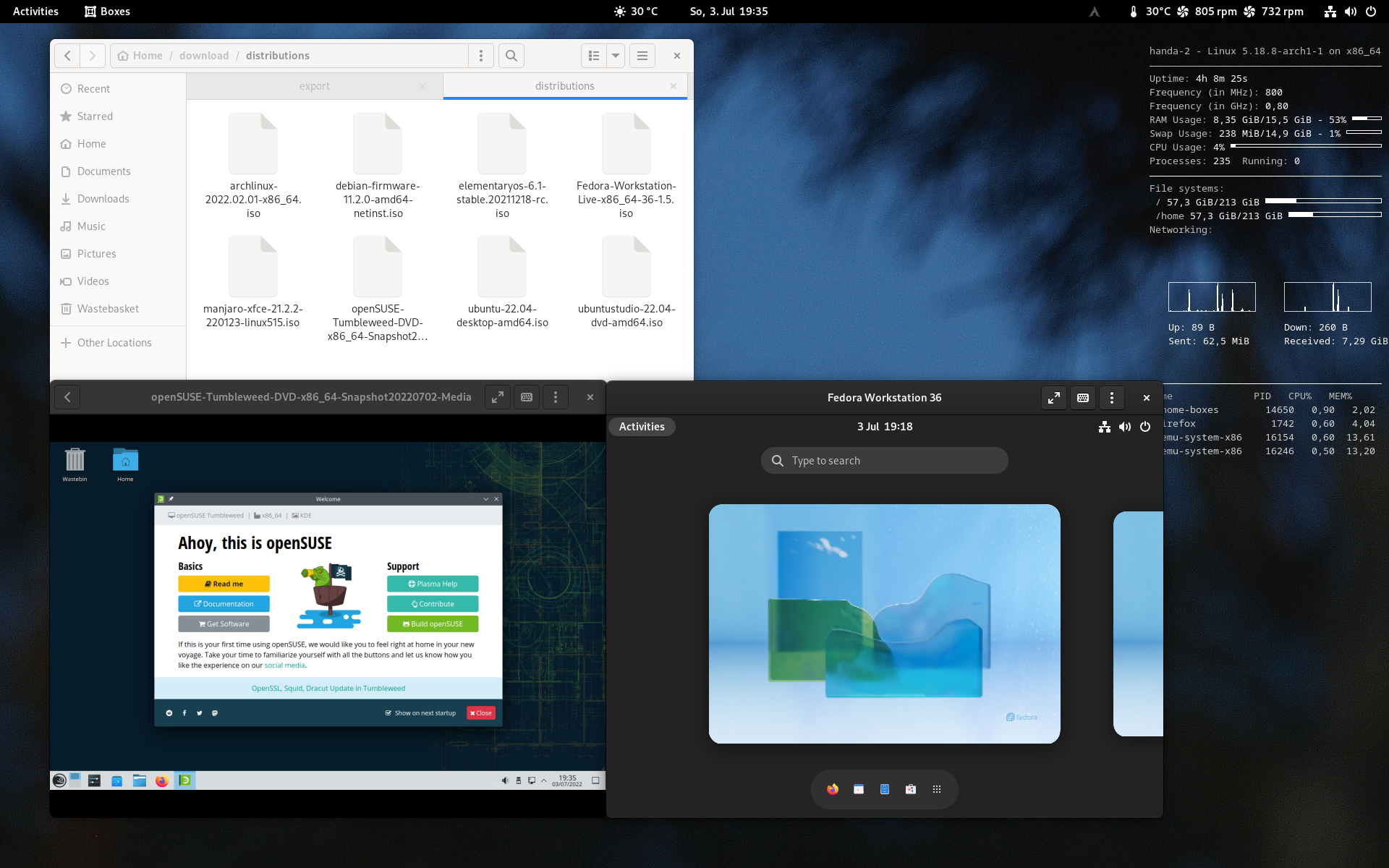 I haven't tested much yet since I just interrupted my "work" on a beautiful Wikiloops song for this, but what I can say so far is that at least in my virtual machine and from my desktop, printing wasn't a problem with Fedora – I had to give the Gnome desktop the local IPv4 address of our printer (an OfficeJet Pro 7740), but then I could print a test page no problem.
I'll have a look at both and report more if there is something to say about these.
For now, and like always, thanks for reading.
P.S.: just discovered another first of usually many little "niggles" I have when testing Fedora – look at the clocks, after falling asleep for a while:
So often I have tried to love it… :/