Our car needs to be repaired. This time it's the crank shaft sensor which has to be changed, and Mitchie decided that it's not cost-effective to keep hanging on to that vehicle any longer; it's now well over 19 years old and needs to be repaired more frequently lately, so she wants a new one.
No, not this one which Zuleikha saw and loved in our car dealers' shop lately: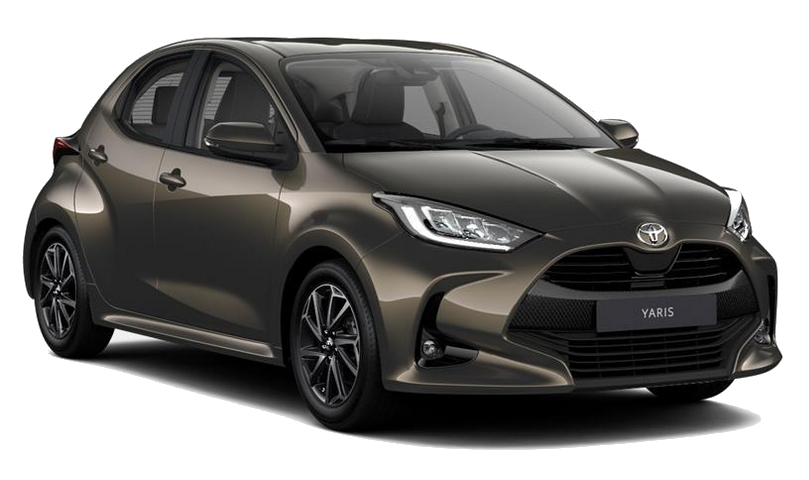 That's almost the same they had given us last time, and about which I've written here already. Super car, but we wouldn't like to spend 20k€+ on a new car right now.
So we decided to look for its last predecessor, which is the second facelift of the third generation of the Toyota Yaris line, and we've found a really nice one in a trim that Toyota calls the "Style Selection". Here's a photo taken from the dealer who had it on offer:
This one also has a 1.5l fuel engine, but a four cylinder instead of the three cylinders in the newer version. Plus, like all full hybrids, an electrical engine and a CVT – a continuous variable transmission, meaning: no gears. No clutch, no starter, alternator, no drive shaft as well. It has a combined power output of 100hp, three more than we have now, but the top speed is limited to 165km/h (more than enough in this day and age IMO). This "Style Selection" comes with two colours as you can see, and with 16 inch wheels, a bit bigger than what we have now.
The used car market is pretty empty at the moment, and it's understandable why: people are thinking about getting full electrical cars, but most of us who live in urban areas don't yet have the possibility to charge these at home, or on the working place. So no electrical, no plugin hybrid, but a full hybrid like this makes the most sense at the moment, and because everyone thinks that this time will pass as well, people are buying more used than new at the moment. Understandable in my opinion.
Bob from Ireland thinks the same, namely "that it makes a lot of sense" to get a car like these:
He's driving the exact same car in red & black, and with the wheel at the other side of course, but beside of that, the same.
And here's another (bit longer and) nice presentation from a German car dealer where Josephine also talks about the differences between her own and that slightly higher specced "Style Selection" model (in German of course):
I've driven "ours" (which is paid, but we don't have it registered yet), and we're very happy with what it is and what it does. I assume that we'll get it in a few days, then I'll report more, and have our old one repaired, maybe somewhere locally (and a bit cheaper than at an official Toyota repair shop?). Then we'll have to see to whom this one will go…
Oh, and this "new" car doesn't only take less fuel than our old one (I managed to get it to 4.8l/100km on our short test drive, the old one takes a bit more than 6 litres), it also takes "E10" which can be produced a bit more environment-friendly, and which costs 6 cents less per litre than the 95 octane "Super" we need now…
As always, thanks for reading, viewing, and watching. Also thanks to Bob and to Josephine, as well as to the people at our car dealers'. Be well and stay safe everyone.