The more I'm using my new Debian 11 "Bullseye", the more I like it. The first – and big – change to something better is that thanks to Geoffrey Bennett, a friendly musician and developer there's now a Linux driver for the Focusrite Scarlett 2nd and 3rd generation interfaces in the kernel versions 5.x – see his latest thread on Linuxmusicians about it. He's even developing graphical tools to manage these audio interfaces, but hasn't released anything public yet. Still they work great, and I can now switch inputs from line to instrument, or assign a -10dB pad with a simple mouse click for instance in qasmixer, which shows my interface like this: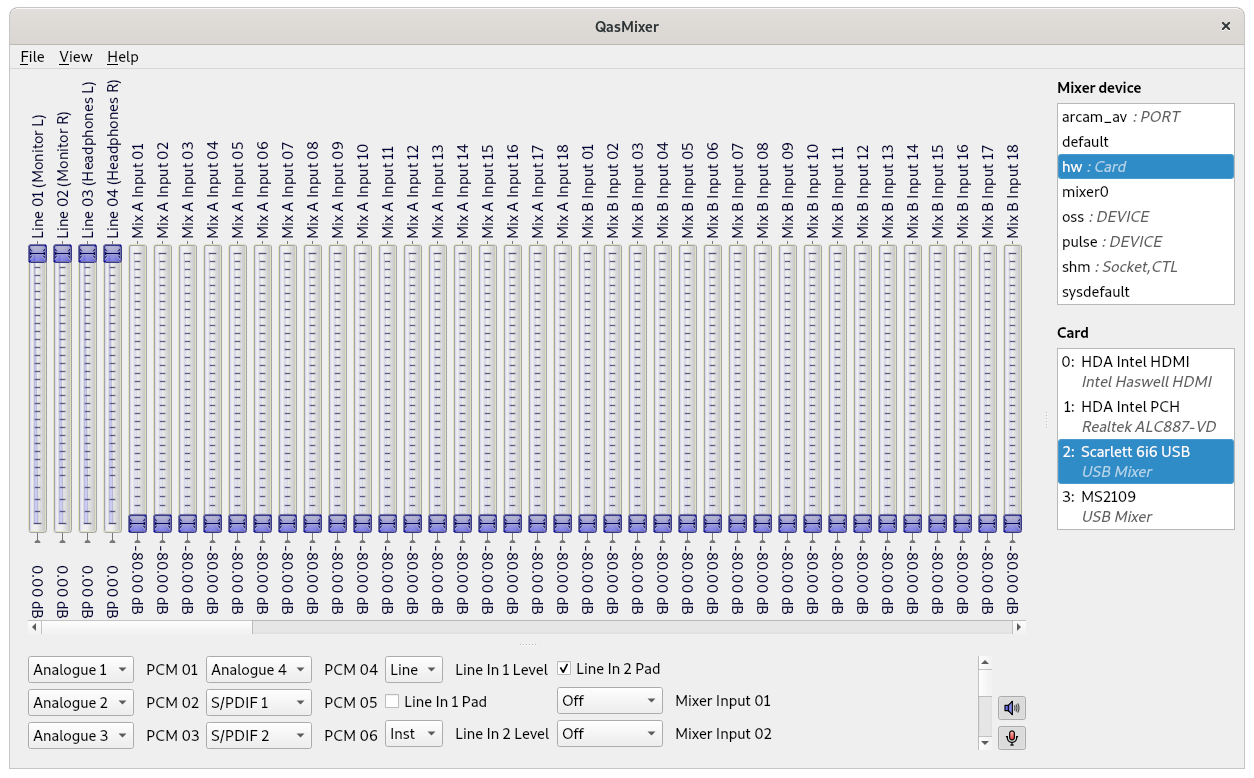 This is cool because now you won't need any Windows- or Mac-only software just to change settings on your interface (only the smallest Focusrite interfaces have physical switches, and none comes with software for Linux).
I have also set up a new LADISH studio for the Sonarworks headphone correction in Cadence and Claudia, and Cadence bridges all of Alsa, Pulseaudio, and Jack nicely so that it all works together. The cabling for my self-built "systemwide" setup for Linux in Carla looks like this:
Of course, I also had to select the right inputs and outputs for Pulseaudio in their pavucontrol, which looks like this:
And these settings also allow third party applications like SongRec to check if a song might be a cover of others – and if yes, it shows something like this:
All of this is very complex because the Linux sound systems are so many, from Alsa over Jack to Pulse, and so on. But it all works nicely now, better than ever I'd say.
On Arch Linux I have Pipewire which tries to replace all of the sound servers mentioned above, and that also works – tho I haven't looked that deep into it, and it's also not quite ready yet. But from what I have seen and heard so far, that one is also perfectly usable already, so no matter which system is up and running (except Windows), I could make some music.
Good times. I'm happy that my transition to newer operating systems worked so well. And so today I also wiped all partitions from my old 250GB system drive which will go and find a new home in my brother's PC as soon as he has time to deal with that. I already made a Ventoy-based USB boot stick with these same systems on it (plus some others which he hasn't seen yet) for him.
Ok, enough for today. And thanks for reading, as always.